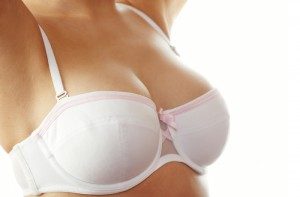 Do you feel lost in a sea of letters and numbers every time you head out to buy a new bra? You aren't alone. Bra shopping and sizing is notoriously difficult. A recent study suggests that more than 60% of women wear the wrong size bra and surprisingly a third even know their size is incorrect. What's a woman to do? How do you find a bra that fits? These sizing tips will help you cut through the mystery of bra sizing to find one that flatters your breasts whether they be large, small, or somewhere in the middle. Every breast deserves to look its best.
What Do the Letters and Numbers Actually Mean?
What's your bra size? Traditional bra sizes are a combination of letters and numbers. The number portion of the size (the 34 in 34C for example) represents your band size or the measurement around your rib cage just below your breasts. To get this number pull a soft measuring tape tightly around the bottom of your bra band while wearing it. Round to the nearest whole number and add four (five if the number is odd). This is your band size.
The letter portion of your bra size is your cup size. To get this you'll need your bust measurement. Measure around your chest again this time placing the measuring tape at nipple level. This is your bust measurement. Get your cup size by subtracting your band size from your bust size. If the difference is a 1 your cup size is an A, 2 a B, 3 a C, etc. This helpful chart will help you perfect the skill of calculating your cup size.
Now you should have a letter and a number to use as your bra size. Your band size goes first and is followed by your cup size. Bear in mind that even after all this effort, this is just a guide. Bra sizing isn't standardized and each manufacturer determines their own fit. Use this as a starting point, but don't be surprised if you have to experiment a bit to find the right fit.
Get a Fitting… or Try an App
If you're feeling lost about bra sizing you can get some help. Many department and lingerie stores offer bra fittings where you are measured and fitted by a trained sizing professional. If you're unsure of your bra size or want extra help, this can be a wonderful option. You may also want to get a professional fitting if your bra size changes substantially (if you lose weight, get a breast lift, or have breast augmentation for example).
If trying on bras with a professional sounds a bit uncomfortable to you, get your size on your smartphone. ThirdLove, a San Francisco bra company, has created a bra sizing app that uses your smartphone camera to determine your bra size all from the comfort of your own home.
Having a bra that fits can help you to love your breasts even more. If your breasts aren't quite what you'd like them to be, we'd love to help you love your body whether it be a Breast Lift, Implants, or Breast Reduction. Explore your options with a consultation here at the Plastic Surgery Center of Nashville by contacting us online or by calling 1-(615) 467-6777 today!